U.S. Army Corps of Engineers Clean Water Act Permit Decision
The Alaska District for the Army Corps of Engineers is revisiting the 2020 Record of Decision (ROD) in which it denied the Pebble Limited Partnership's application for a Clean Water Act permit for the Pebble project. The Corps' Pacific Ocean Division mandated this additional review following Pebble Limited Partnership's appeal of the 2020 ROD.
We will update this page with additional information when the Alaska District completes this review and issue a new or revised ROD or takes other steps.
Pedro Bay Conservation Easement
In December 2022, Pedro Bay Corporation executed conservation easements with the Bristol Bay Heritage Land Trust on 44,000 acres of its lands along the northeast shore of Iliamna Lake. The easements will complicate PLP or future developers' efforts to utilize the lands for use as a transportation corridor from the mine site to Cook Inlet. The deals also protect subsistence access to these lands for Pedro Bay Corporation shareholders and provide the corporation with revenues from the lands.
To read more about the 2022 Pedro Bay Conservation Easements click here.
Despite Recent Victories, Bristol Bay Needs Durable Long-Term Solutions
While the current iteration of Pebble was rejected, the Pebble Limited Partnership (PLP) and the threat of large-scale, open-pit mining in Bristol Bay are not going away. As long as there is a need for copper or gold, powerful interests will want to mine those minerals from the Pebble deposit. That's why Bristol Bay needs additional legislative measures. BBNC is looking to work with the Alaska congressional delegation and other allies in Congress from both parties to advance a solution that both protects Bristol Bay and its salmon resource while funding sustainable economic opportunities for the region. BBNC is committed to pursuing this path because Bristol Bay deserves a durable solution to Pebble and new economic opportunities for our people.
Why BBNC Opposes Pebble Mine
Since 2009, Bristol Bay Native Corporation has formally opposed the proposed Pebble mine at the headwaters of the Nushagak and Kvichak Rivers in Bristol Bay, Alaska. These rivers support the prolific salmon runs in Bristol Bay, which produce tens of millions of sockeye salmon every year and support a multi-million dollar commercial fishing industry, 14,000 fishing jobs, a robust sportfishing and tourism economy, and our Alaska Native way of life. The gold and copper mine, which would produce billions of tons of wasterock stored in perpetuity behind a massive earthen dam, would threaten all that Bristol Bay holds dear. Our views on Pebble mine are based on our "fish first" value – and the opinions of the vast majority of our over 11,000 Alaska Native shareholders.
We are opposed to the Pebble mine because science has proven it will have unacceptable, adverse impacts to Bristol Bay's watershed. Even the conservative and incomplete Final Environmental Impact Statement (Final EIS) for the mine plan estimates that Pebble could destroy over 3,000 acres of pristine wetlands and 105 miles of streams, while mining less than 13% of the ore body located at Pebble. Top executives at Pebble Limited Partnership (PLP) and parent company Northern Dynasty Minerals (NDM) acknowledge that the mine will be much larger and potentially in operation for 180 years or longer.
Our late Republican Senator Ted Stevens' words still ring true: "Pebble is the wrong mine in the wrong place."
Our Leadership's Views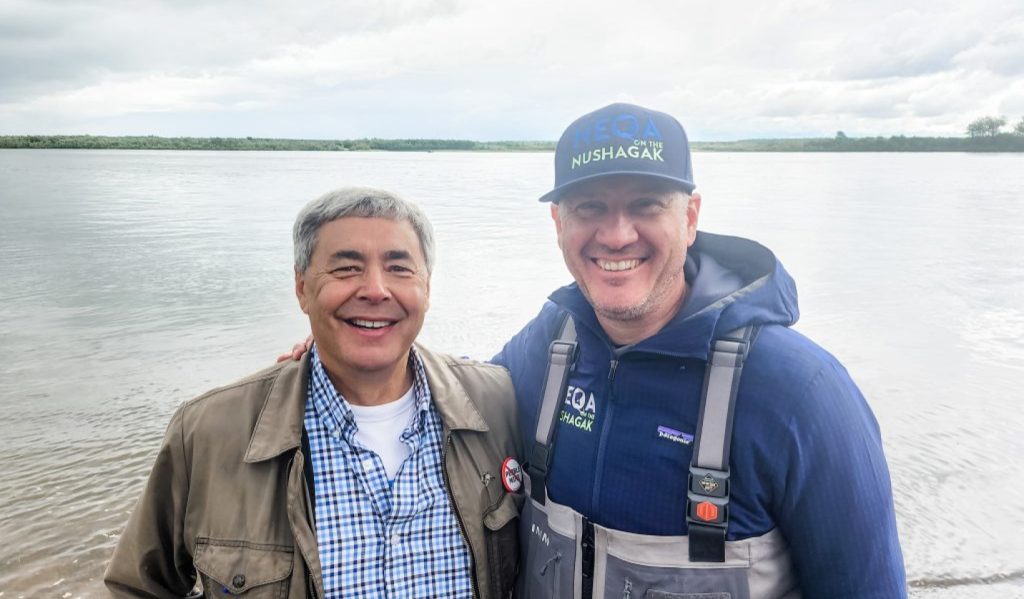 "BBNC shareholders have lived in the Bristol Bay region for thousands of years and we want future generations to have the same opportunities. This is why BBNC has strived to be a good steward of the region's lands and waters and advocated against the proposed Pebble mine. The mine, if built, would threaten the salmon fisheries that have sustained our shareholders for generations and been the economic backbone of the region for more than 130 years. The mine is simply inconsistent with our Fish First value." – Russell Nelson, BBNC Board Chair
"BBNC does not otherwise oppose mining development. Pebble mine is simply different. In any configuration, the mine is too big and will be located in too important of a location. It poses unacceptable risks to the salmon resource and consequently, the subsistence lifestyle and economic interests of our shareholders." – Jason Metrokin, BBNC President & CEO
Alaskans Oppose Pebble Mine
In a state known for its support of resource development, Alaskans have consistently opposed Pebble mine. Most recently, a survey of likely November 2020 voters taken in June 2020 shows Alaskans oppose the mine by a 2-1 margin (62% to 31%). BBNC's own polling has shown similar results, with a majority of Alaskans opposing the mine dating back to at least 2012. The mine is also opposed by 76% of BBNC shareholders, with majorities opposing the mine in every part of the Bristol Bay region, including communities closest to the mine site.

Moreover, since 2012, over 2.5 million comments have been submitted to EPA and other federal agencies expressing opposition to Pebble mine. The vast majority of comments from Alaskans have been in opposition. The depth and breadth of this coalition is unprecedented for a major resource development project.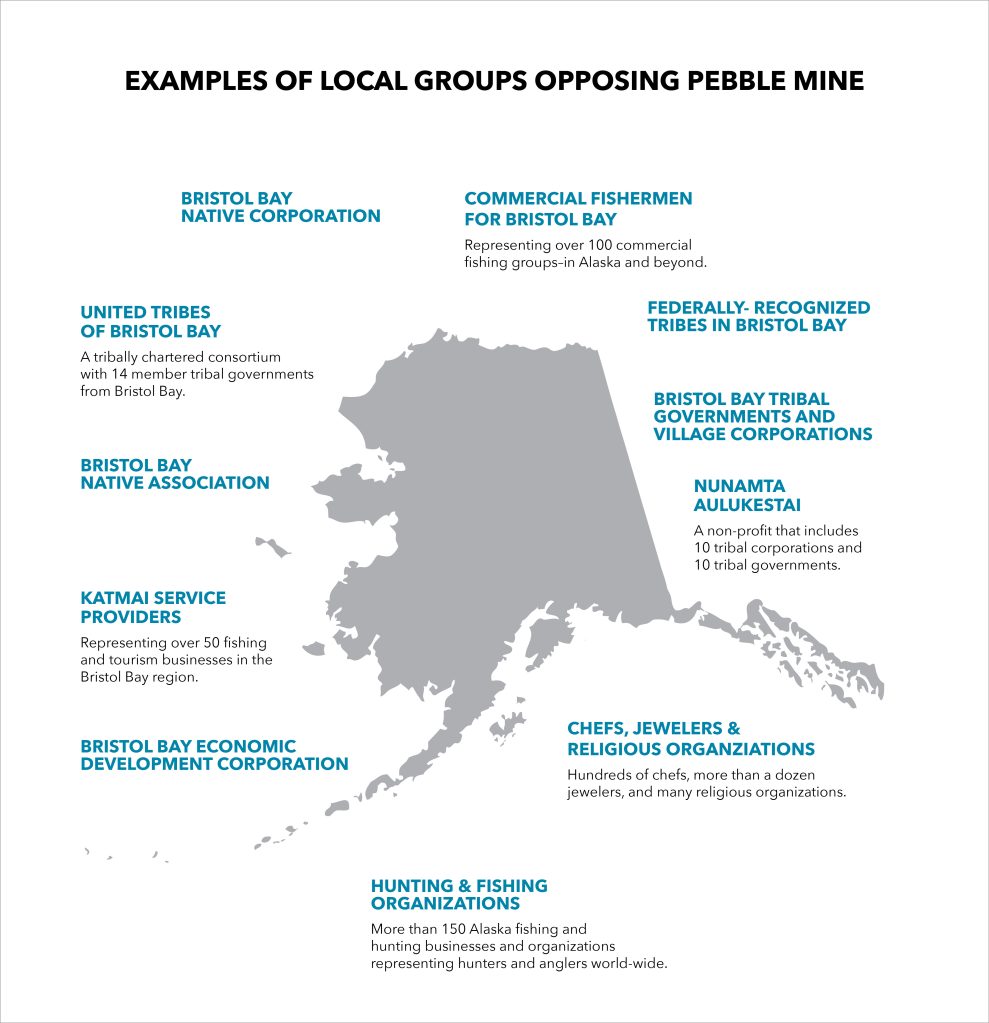 Alaskans and residents in the lower 48 understand the importance of one of the world's largest, and last, commercial sockeye salmon runs. Pebble has had over ten years to gain the public's trust and continues to spend untold funds to gain support of Alaskans. But Alaskans aren't buying what Pebble is selling.
Alaska's Congressional Delegation Weighs In
In September of 2019, Alaska Senator and Chairman of the Senate Energy and Natural Resources Committee Chairman Lisa Murkowski included language in an appropriations bill report that expressed concerns with the permitting process and encouraged a permit denial if the concerns aren't met.
Both Senator Murkowski and Senator Dan Sullivan supported the Army Corps' August 2020 conclusion that the mine could not be permitted as proposed. Senator Murkowski said, "I agree that a permit should not be issued." Senator Sullivan said, "I support this conclusion – based on the best available science and a rigorous, fair process – that a federal permit cannot be issued."
The Senators reiterated their opposition during the Bristol Bay Voices Panel held during the 2020 Bristol Bay Wild Salmon Celebration.
"After this very rigorous, very thorough process, the [Army Corps of Engineers] has found that the Pebble project as currently proposed does not meet that high bar. And I have said, if you don't meet the high bar, then a permit should not be issued," said Senator Murkowski.
"We know we have an incredible resource in the region already, which is the salmon resource, so you can't trade one resource for another…we had to make sure that the agencies, and the federal government, the White House, everybody was listening to Alaskans," said Senator Sullivan. Later, Senator Sullivan further reiterated his opposition, stating "I oppose Pebble Mine. No Pebble Mine."
Senator Murkowski reiterated her opposition to Pebble at the 2020 Alaska Federation of Natives Annual Convention stating, "I have been clear throughout that I oppose the project. I recognize the need for new economic development in Southwest Alaska. I think we all do. But I simply think this is the wrong mine in the wrong place." Watch the video of her entire AFN statement on Pebble below.
When the Environmental Protection Agency (EPA) issued its Final Determination, Representative Mary Peltola stated, "Rebuilding our salmon runs and protecting our fish was the number one reason I decided to run for Congress… Protecting Bristol Bay, and the world's largest sockeye salmon fishery, has been a bipartisan effort from the very beginning. After decades of regulatory uncertainty, I hope that this ruling gives the people who live and work in Bristol Bay the stability and peace of mind they deserve and the confidence that this incredible salmon run will no longer be threatened."
What's Next for Pebble Mine?
Regardless of the fate of PLP's appeal, the proposed Pebble mine is rife with problems – from its compensatory mitigation plan, water treatment and storage, land ownership concerns, impact on anadromous fish species, and tailings and dam design, to name just a few. Pebble mine is, and will always be, the wrong mine in the wrong place.
Additional Resources
Analysis of Permitting Documents
BBNC Comments on the 2022 Proposed Determination
Other Resources