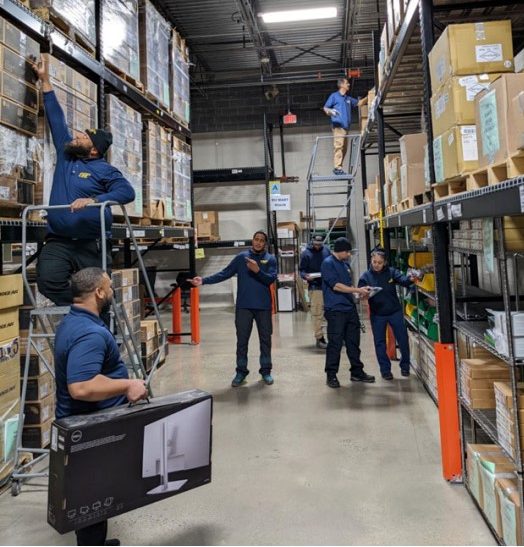 TSS Employees Provide Support for FBI's On-Demand Program
The Federal Bureau of Investigation's (FBI) Information Technology On-Demand (IToD) Program streamlines the requisition and delivery of IT equipment such as laptops, tablets, accessories, and other equipment for all FBI headquarters and field customers. TekPro Support Services's (TSS) role in the IToD program is to maintain full inventory, process all accountable assets into an automated tracking system, and transfer assets within a 24-hour turnaround window. Since program inception in March of 2021, the TSS team has processed 2,147 units totaling over $3.0 million with a total life cycle of 20.95 days from order submission to customer receipt.
The program was created to make the IT procurement process for FBI employees more efficient by pre-vetting products through security protocols. FBI employees can submit orders at any time, and they are fulfilled in a matter of weeks. Prior to this program, the process would take months.
IToD's streamlined system has supported several FBI operations. For example, the Oklahoma City Division experienced a significant workload expansion that required 42 laptops. IToD was able to ship those to the team within days. "We had all laptops in hand and ready to deploy to our investigators within two weeks, which would not have been possible through IT Bulk Buy's triannual process," said an FBI IT Specialist.
In addition to managing the logistics of deploying the IT equipment, the TSS team was instrumental in ensuring that the Cheverly Logistics Center (CLC) warehouse was prepared to house additional IT equipment since customers would be ordering desktops and desktop accessories. The team was able to calculate the volume of space needed for new items. IToD is also looking to expand items to include mobile phone accessories.
The program has received much praise from the field including the following comments:
"The ordering process was excellent." – Management and Program Analyst in the Criminal Investigative Division
"The Logistics Unit (LU) (the team who manages inventory and fullfillment needs) working at the Cheverly Warehouse is, hands down, one of the best teams with whom I have ever worked. As the Program Manager for IToD, I have frequent contact with LU, sometimes on a daily basis. LU is an invaluable and integral part of IToD. The team is always quick to respond to any communication the IToD team has with them and resolve any outstanding requests. They also consistently meet the goal of a one day or less turnaround in order fulfillment and shipment. The stellar reputation of IToD would not exist without the amazing partnership we have with LU. Based on the successful operations of our partnership, the Devices Management Unit (DMU) has started to model additional processes after IToD, to include fulfillment of hardware stored in Cheverly for other large projects. Thank you to LU for all the work they do!" – FBI Program Manager from DMU
"I regularly work with Khiyel Rivera and Marcus Fowler from LU for tasks and statuses associated with DMU's IT stock. I am always impressed with the responsiveness of the team, the organization with which they operate, and the accuracy in execution. While I specifically focus on device distribution, I often hear positive feedback about LU and the Cheverly Warehouse staff in my day-to-day work activities. The LU team is effective and, further, interacting with them is always a pleasure. Thank you, LU!" – FBI DMU employee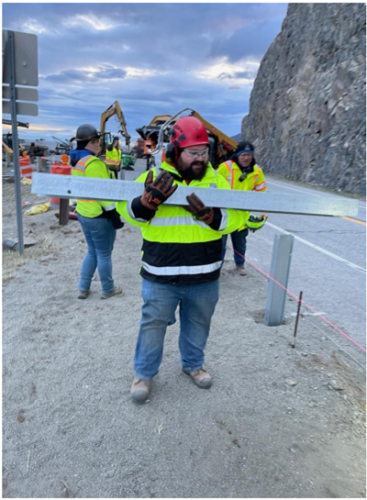 CCI Employee Spotlight: Michael Andrew
CCI Electrical Services, LLC in collaboration with CCI Industrial Services, LLC, secured a $28.0 million contract for guardrail replacement work, a project that extends over a vast stretch from Wasilla to Homer. Although this undertaking may not fit neatly into our portfolio of past work, focus, or experience, it serves as a strategic pivot, highlighting the exceptional capabilities of CCI.
At the forefront of this project's remarkable team is BBNC shareholder and CCI Project Engineer/Manager Michael Andrew. Drawing from his experience in civil construction at former sister company Peak Construction and his recent roles in financial and project controls with Kakivik Asset Management, LLC, Michael brings a vital ingredient to the project's success. His meticulous attention to project metrics, schedules, and finances has ensured the project remains focused and on track. Additionally, you will often find him in the field at night, supervising and problem-solving with the team, and getting hands-on when needed. Michael's skills, drive, positive attitude, and problem-solving mindset have made him an invaluable addition to the management team.
Michael works alongside Project Manager Abdel Abouhaib, Superintendent Rick Dolfi, Logistics Superintendent Dave Norton, and seasoned Guardrail Field Supervisor Andrew Duncan. Together, they make up a formidable team with an ideal mix of experience in operations management, innovation, project management, and technical expertise required to tackle a project of this magnitude.
Stepping foot in our office or visiting the job site, you will quickly realize that this is no ordinary construction project team. We have assembled an exceptional group of individuals from diverse backgrounds, each contributing their unique expertise. They approach their work with a deep understanding of the key elements at play—technology, people, and processes. Innovation lies at the heart of their discussions as they constantly seek better ways to execute guardrail installations.
The team's hard work and dedication have yielded impressive results. The project is running ahead of schedule, and the Department of Transportation inspectors have been thoroughly impressed with the progress being made. With a team like this, CCI possesses tremendous potential for growth and the ability to seize new opportunities aligning with the company's broader objectives. Michael, along with the entire team, embodies the spirit of excellence and innovation that sets CCI apart.
TAGS:
Corporate
,
Operations
,
Shareholder
,
Subsidiary