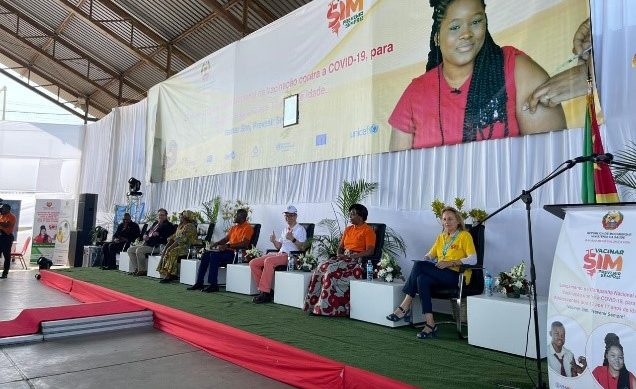 SMS' USAID Contract Supports Mozambique Vaccine Campaign Efforts
SpecPro Management Services (SMS) would like to thank Hope Wilson for supporting our contract with the United States Agency for International Development (USAID).
Hope, who has served as the Senior Project Manager on the USAID COVID-19 Task Force in Washington, D.C. since August 2021, traveled to Mozambique, Africa to support their COVID-19 vaccine outreach program from July through November 2022.
While in Mozambique, Hope helped support USAID's mission by leading various meetings, attending multiple events, and reviewing and organizing Mozambique's COVID-19 records and documents.
She also had discussions with the Maputo, Mozambique communications team, talked with youth aged 12-17 about the COVID-19 vaccine, and shared fact sheets and success stories to further support the campaign.
Hope's efforts, along with the team at the Mission in Mozambique, received recognition from the administrator of USAID, Samantha Power. In January, Samantha posted on her Twitter account about the success of the adolescent vaccine campaign.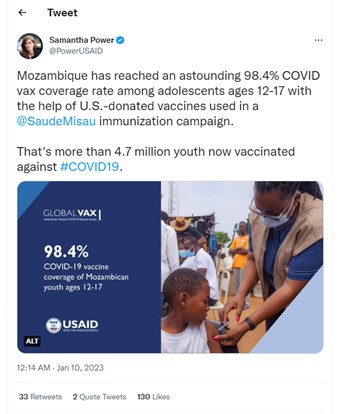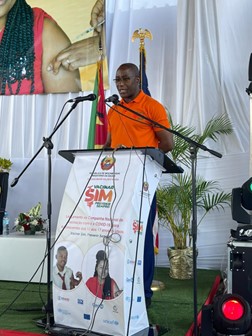 Mozambique Minister of Health Armindo Daniel Tiago
In addition, the Mozambique Minister of Health, Armindo Daniel Tiago, sent a letter to the USAID team expressing his appreciation for their efforts. Excerpts from his letter are below as translated from his Native Portuguese:
"…the vaccination process against COVID-19 for adolescents aged 12 to 17 years old took place from September to November 2022, with two doses of the Pfizer vaccine nationwide.
Out of a planned total of 4,801,544 adolescents, 4,723,518 have been fully vaccinated, which corresponds to 98.4% coverage. Mozambique is on the list of the first five countries in Africa with the best coverage of vaccination against COVID-19, using the total population as the denominator.
I would like to acknowledge and express our sincere thanks for all the support provided by your organization in the successful implementation of this important public health intervention."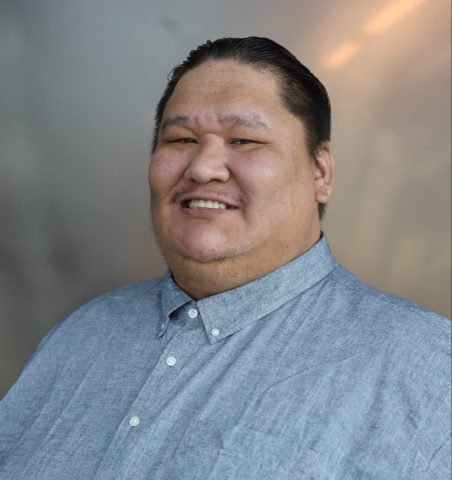 BBSS Employee Spotlight
BBNC shareholder James Woods was recently hired as the Human Resources Coordinator at Bristol Bay Shared Services (BBSS) in January 2023.
James completed an internship at BBSS in the Human Resources department in August 2022, and was then hired on as a temporary employee.
He also recently graduated from the University of Alaska Anchorage with a degree in business administration with a focus in management in the fall of 2022. Congratulations, James!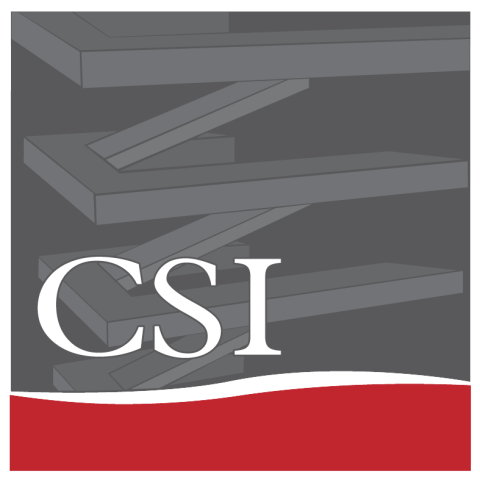 CCI Acquires Contracting Specialists, Inc.
The CCI Alliance of Companies (CCI) welcomes the addition of Contracting Specialists, Inc. (CSI), a construction company that specializes in the repair and restoration of concrete and masonry structures.
CSI has operations centered in the New England, South Florida, and Washington, D.C. areas and more than 180 employees, which aligns well with the CCI portfolio of operations.
"We are very excited to welcome CSI to the CCI Alliance and the BBNC family," said Duncan Morrison, CCI's president and CEO. "CSI's dedicated leadership team, commitment to safety, culture of teamwork, and unique skillset and experience makes CSI a valuable addition to our group."
CSI was founded in 1996 and is a full-service source for waterproofing, deck coatings, structural stabilization, concrete and masonry restoration, hydrodemolition, and epoxy grouting. Since its inception, the company has earned a reputation of excellence among clients, engineers, and industry peers.
"We look forward to continuing to provide outstanding performance to our clients under CCI," said Wallace L. Frigon, Sr., principal and founder of CSI. "BBNC/CCI present opportunities that are a strategic fit for both CCI and CSI."
TAGS:
Operations
,
Shareholder
,
Subsidiary
,
Corporate