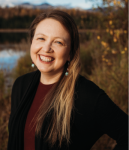 Dear Community,
As we look forward to 2023, we continue to pause and reflect on the life of our long-time board chair Marie Paul, who passed away on December 18, 2022. Her life of service to Bristol Bay was significant and we are considering how we can honor her legacy in a good way. I am grateful to our board of directors who have stepped in to ensure the continuity of BBNCEF and gently move us forward.
As we reflect on the last year, we again want to acknowledge the hard work of our students and cultural heritage partners. In 2022-2023, BBNCEF awarded 192 higher education scholarships to BBNC shareholders. We are proud of each of these students for continuing their educational studies. In addition, we awarded 40 students a Career-Focused Vocational Education (CFVE) scholarship in last year – congratulations to these students for taking the next step in their personal goals. We know that vocational professions are highly needed in the region and are grateful to these students for taking to time to meet this workforce demand.
In addition to scholarships, BBNCEF supported 10 Cultural Heritage and Native Place Names Grants for an amazing array of cultural activities in 2022. Quyana to all our teachers and educators for their hard work in supporting young learners in Bristol Bay and beyond.
Don't forget – direct lineal descendants are now eligible for scholarships! Please look to the right for details about how to apply. Last, we're around the corner from spring graduations. If you (or a loved one) is a soon-to-be BBNCEF alumnus, please reach out to us with your graduation plans, and send us photographs of the big event. We'll make sure to list you in upcoming publications.
You can always reach me at atowns-bain@bbnc.net or (907) 265-7875.
Aleesha Towns-Bain
BBNCEF Executive Director
Seeking New Board Members
BBNCEF is seeking new board members. Board members help us in achieving our mission to provide support for and encourage shareholders and descendants to pursue educational opportunities and to promote and preserve cultural heritage.
Service on the BBNCEF Board is non-paid and voluntary and members serve three-year terms. The board meets quarterly and all members sit on committees that meet between two to four times a year. Board members are encouraged to actively engage in activities with students, as well as the tribes and nonprofits that serve Bristol Bay.
To apply, please submit a letter of interest and resume that outlines your education, work history, community involvement, and nonprofit or other relevant experience that may be beneficial to BBNCEF. Letters and resumes must be received by Saturday, July 1, 2023 at 5:00 p.m. Please mail applications to BBNCEF, c/o Aleesha Towns-Bain at the address to the left or email them to atowns-bain@bbnc.net.
Opportunities for Students
BBNCEF offers two major scholarship applications each year, the Higher Education scholarship program and the Career-Focused Vocational Education (CFVE) Program.
NEW! Both programs are open to serve direct lineal descendants in 2023! There are no blood quantum or residency requirements. To register as a descendant, visit the myBBNC portal at myBBNC.net and click on the "Descendant Registration" tab at the top. If you have any questions regarding descendant registration, please contact BBNC at shareholders@bbnc.net or (907) 278-3602.
Higher Education Scholarship Program
The Higher Education scholarship supports BBNC shareholders and descendants pursuing two-year, four-year, and graduate degrees.
CFVE Scholarship Program
The CFVE scholarship for BBNC shareholders and descendants supports in-depth training for specific career-focused and long-term employment goals, such as professional piloting, maritime, cosmetology licensing, and industry trades.
The next deadline for both scholarships is Friday, April 7, 2023, at 5:00 p.m. Alaska time. Applications are available online by visiting the myBBNC portal at myBBNC.net (please contact us to request a paper application). We encourage students to start their applications early to ensure all requirements are received before the deadline date.
Cultural Heritage Program Expands
This past year, the Cultural Heritage Program has expanded to increase our footprint within the Bristol Bay region and the state of Alaska. BBNCEF partnered with the Alaska Humanities Forum, BBNC Culture Camp, Bristol Bay Regional Career and Technical Education Program, University of Alaska Anchorage School of Education, and the Bristol Bay Borough, Dillingham City, Lake & Peninsula, and Southwest Region School Districts to form the Bristol Bay Teaching and Learning Collaborative Project (BBTLC).
BBTLC will impact all 24 schools, four school districts, 25 communities, approximately 1,500 students, and 190 educators in the Bristol Bay region. The collaborative will improve teaching quality in our Indigenous communities and therefore increase student success through three areas:
Increasing the number of teachers and educational leaders who originate from the Bristol Bay region
Increasing positive engagement between communities and schools
Increasing current educators' knowledge of the local culture and encouraging its use in culturally responsive teaching practices
In addition, we continue to offer the Piniq' (strength) and Native Place Names Grants to our communities. Most awards are under $8,000 and can be reviewed in less than a month. Applications are available online at bbncef.org.
Quyana 2022 Donors!
We would like to thank the many corporate business, foundation partners, and individuals who have supported our mission during the past year. These generous gifts make it possible for BBNCEF students to reach and attain their education goals and support our cultural heritage work in Bristol Bay.
You can donate to BBNCEF online at bbncef.org and selecting DONATE to make a single gift or sign up for a recurring donation.
Corporate Donors:
Alaska Airlines
AT&T
Bank of America
Bay Hills Capital
Bessenyey & Van Tuyn LLC
Bristol Adventures
Calista Corporation
Cashion Gilmore & Lindmuth
CCI Alliance of Companies
Cook Inlet Region, Inc.
Deltek
Dorsey & Whitney LLP
Doyon, Limited
GCI
Grant Aviation
Liberty Mutual
Marsh & McLennan
National Fish and Wildlife Foundation
Parker, Smith & Feek
Providence Health & Services Alaska
Rasmuson Foundation
Strategies 360
Sealaska
SES Group of Companies LLC
Six-7 Strategies
Stoel Rives LLP
Transcend Strategic Consulting
Weidner Property Management
Wells Fargo
Individual Donors:
GOLD LEVEL ($4,000+)
Scott & Clara Torrison
Renee Wardlaw
PLATINUM LEVEL ($3,000-$3,999)
Kristy West
IVORY LEVEL ($2,000-$2,999)
Jason Metrokin
John Morrison
JADE LEVEL ($1,000-$1,999)
Andria Agli
Kim Allerton
Peter Andrew Jr.
Romina Bentz
Inez (Webb) Bielefeld
Daniel Cheyette
William Gornto
Tamara Larson
Kay Larson-Blair
H. Robin Jr. & Judy
Samuelsen
Nancy Schierhorn
KING SALMON LEVEL ($600-$999)
Francisca Demoski
Greta L. Goto
Diedre Hill
Gerda Kosbruk
Russell S. Nelson
Marie Paul
Casey Sifsof
Carol & Eric Wren
SILVER SALMON LEVEL ($200-$599)
Tami Babcock
Andy Bailey
Wassiliisia R. Bennis
John Blees
Kenneth Chandler
Craig Decker
Nelda Dodge
Brian Dreeszen
Carmell Engebretson
Irene Fritze
Chris Horton
Yvonne Huber
Megan Johnson
Stephanie Kotarski
Linda Leary
Buchi Lind
Jahna Lindemuth
Rick Miles
Carlen Moananu
Grace Mulipola
Angela Peacock
Larry Pihl
Mike Sanders
Sierra Shelton
L. Tiel Smith
Elizabeth Strong
Adam Tosh
Aleesha Towns-Bain
Polly Watson
Laura Yellig
Ryan York
Kimberly Zobel
RED SALMON LEVEL ($50-$199)
Alicia Allard
Stephanie Baldwin
Dennis Bristol
Tianna Carlson
Jinglei Chen
Denise Downey
Troy Engstrom
Lille Gough
Katie Hammock
Lars Herman
Ruth Ann Jennings
Su-Chin Li-Warner
Suzanne Lovell
Zuleika Mason
Yuliya Mitchell
Regina Monroe
Katherine Parker
Chantilly Rivera
Sherri Roberts
Ethan Schutt
Amy Shirlberg
Cassandra Stalzer
Natalie Tuday
Travis Woods
TAGS:
Regional
,
Shareholder
,
Corporate
,
Education Foundation