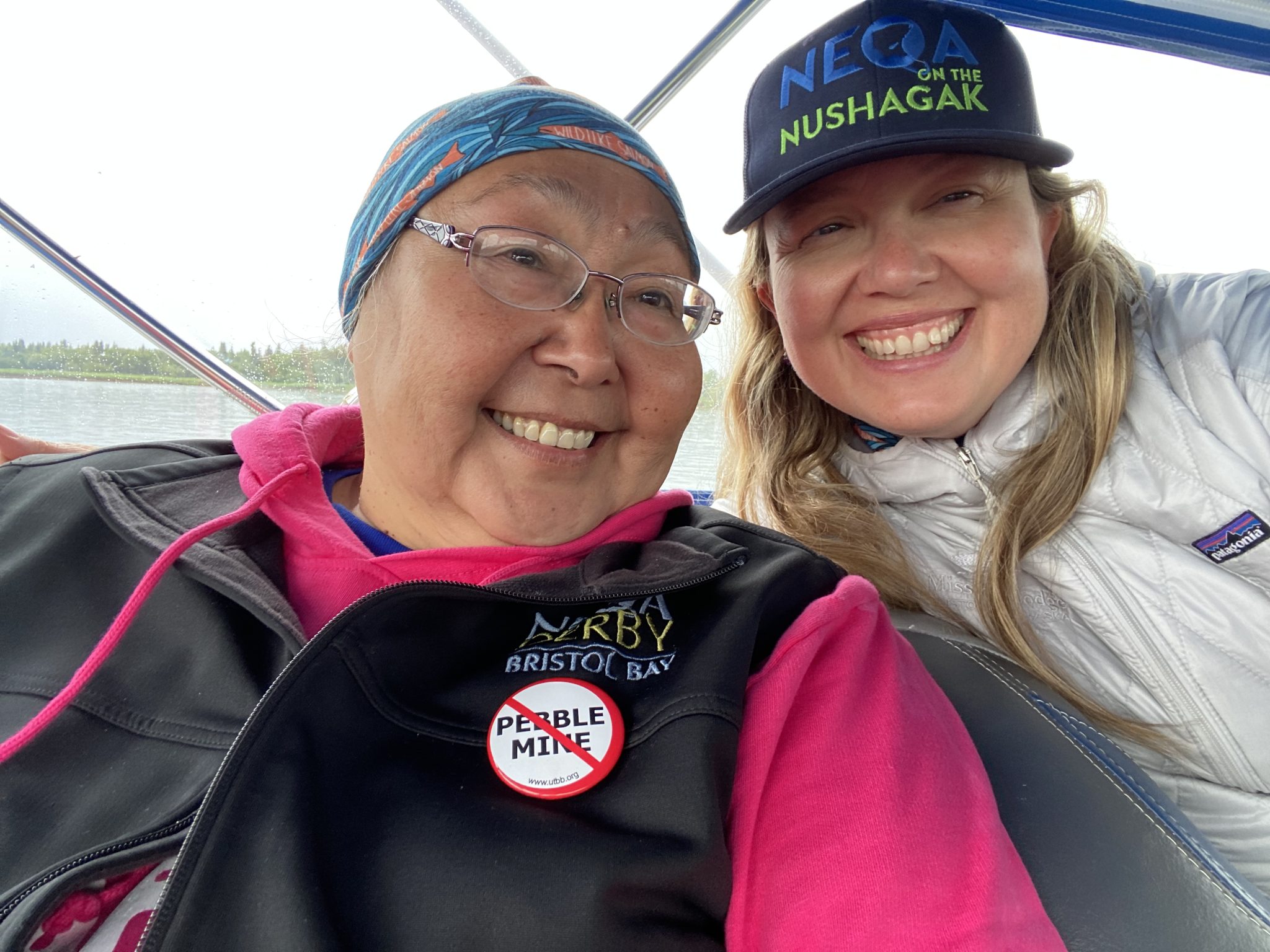 Dear Community,
The BBNCEF team is shocked and devastated about the passing of longtime BBNC Board member and BBNCEF Board President Marie Paul.
Marie was an active member of the Bristol Bay community who was dedicated to bettering her people and teaching her Yup'ik culture. Marie served as President of the BBNCEF Board since 1999. She most recently worked as the Togiak Learning Center Coordinator for the University of Alaska Fairbanks Bristol Bay Campus and served as President of the Traditional Council of Togiak and Vice President of the Southwest Region School Board.
Marie was a champion for education, culture, and our languages. Her heart was with the youth and communities of Bristol Bay in all that she did and in every decision we made as a board and organization under her leadership. The impacts she made on our community will be everlasting.
We will miss Marie's generous spirit, big laugh, and wise counsel, and send our love and deepest condolences to her family. In Yup'ik, Piicautemteggun umyuaqeciqamci (We will be thinking of you all through prayer).
Aleesha Towns-Bain
BBNCEF Executive Director
BBNCEF Receives Significant Federal Grant
BBNCEF is excited to announce that it has received a multi-year US Department of Education grant of $4.39 million to support a new educational collaboration in the Bristol Bay region.
The Bristol Bay Teaching and Learning Collaborative (BBTLC) seeks to increase the number of teachers and educational leaders who originate from the Bristol Bay Region, grow positive engagement between communities and schools, and support educators' knowledge of the local culture and encourage its use in culturally responsive teaching practices.
Through the award, BBNCEF will be hosting three cultural camps in-region in the next year. We are excited to launch this collaboration in the coming months.
Opportunities for Students
BBNCEF offers two major scholarship applications each year, the Higher Education scholarship program and the Career-Focused Vocational Education (CFVE) scholarship program. Both programs will open to serve direct lineal descendants in 2023! There are no blood quantum or residency requirements.
Higher Education Scholarship Program
The Higher Education scholarship program supports BBNC shareholders and descendants pursuing two-year, four-year, and graduate degrees.
Career-Focused Vocational Education Scholarship Program
The CFVE scholarship program for BBNC shareholders and descendants supports in-depth training for specific career-focused and long-term employment goals, such as professional piloting, maritime, cosmetology licensing, and industry trades.
The deadline for both scholarship programs is Friday, April 7, 2023. Applications are available online by visiting the myBBNC portal at myBBNC.net. We encourage students to start their applications early to ensure all requirements are received before the deadline. For information about how to register as a descendent or to request a paper application, please contact BBNCEF at bbncef@bbnc.net or (907) 278-3602.
Quyana Corporate Donors and Contributors
BBNCEF would like to thank the many corporate business, foundation partners, and donors who have supported our mission during the past year. These generous gifts make it possible for BBNCEF students to reach and attain their education goals and support our cultural heritage work in Bristol Bay.
You can donate to BBNCEF online by going to bbncef.org and selecting DONATE. You can make a single gift or sign up for a recurring donation.
Quyana 2022 corporate donors and contributors:
Alaska Airlines
AT&T
Bank of America
Bay Hills Capital Management
Bessenyey & Van Tuyn LLC
Bristol Adventures
Calista Corporation
Cashion Gilmore & Lindemuth
CCI Alliance of Companies
Cook Inlet Regional Corporation
Deltek
Dorsey and Whitney LLP
Doyon Limited
GCI
Grant Aviation
Liberty Mutual
Marsh & McLennan Agency
National Fish and Wildlife Foundation
Parker, Smith & Feek
Providence Health & Services Alaska
Rasmuson Foundation
Strategies 360
Sealaska Corporation
SES Group of Companies LLC
Six-7 Strategies
Stoel Rives LLP
Transcend Strategic Consulting
Weidner Property Management
Wells Fargo
TAGS:
Corporate
,
Education Foundation
,
Regional
,
Shareholder