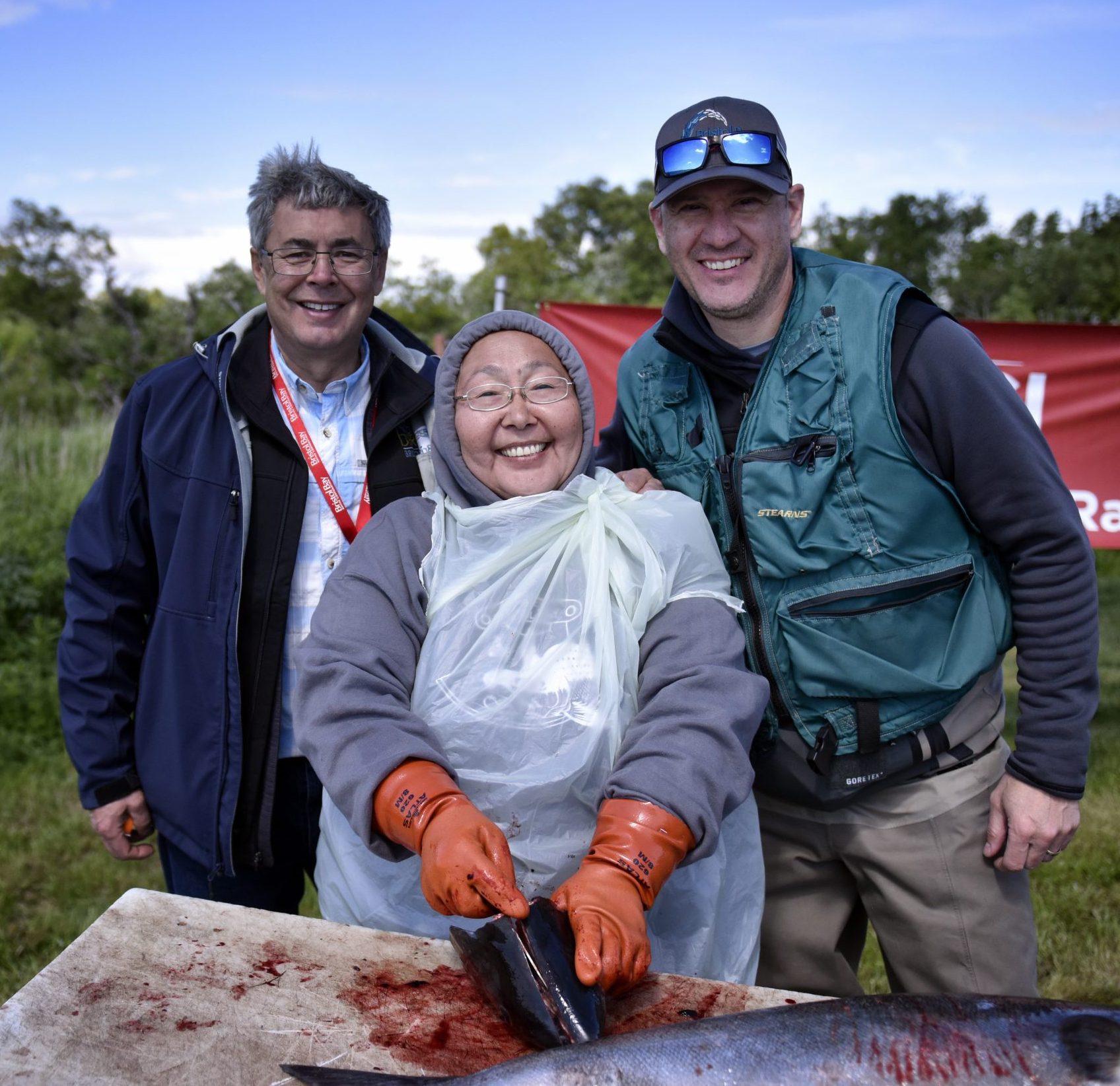 First and foremost, it is with great sadness to announce the passing of longtime BBNC Board Member and BBNCEF Board President Marie Paul. Marie passed away unexpectedly on December 18, 2022, in her hometown of Togiak. BBNC extends our sincere condolences to Marie's family and the community of Togiak during this difficult time. Marie contributed so much to the people of Bristol Bay through the many roles she served in and will be remembered for her humble heart, welcoming presence, and the passion she had for her people and culture. Marie will be greatly missed by BBNC and BBNCEF Boards and staff, the community of Togiak, and the Bristol Bay region as a whole.
Year's end is always a time for reflection and celebration. And despite economic uncertainty and some challenging social conditions, 2022 has given us plenty to reflect upon and celebrate. We've turned a corner on—or we're at least learning to live with—COVID-19, and throughout the past year we've been able to gather again with our friends, families, and loved ones. Salmon returned to Bristol Bay in record numbers, a bounty that is a trademark of our Fish First culture and a boost to our region's economy. And, of course, we commemorated 50 years of business at BBNC.
An important part of observing our 50th anniversary was not to simply showcase the growth and successes of BBNC over the decades, but to also promote and celebrate the culture, identity, and people of our region. One of our commitments is to give shareholders, especially young people, ways to identify with their cultural roots and heritage. To celebrate our cultures—plural. Bristol Bay is a diverse region, anchored in the Alutiiq, Dena'ina, and Yup'ik histories and ways of life. We feel an obligation to make sure we're promoting an interest in this diversity of cultures in any way we can.
We've also anchored the celebration of our 50th with a vow to look forward, not simply in retrospect. To ask what kind of future do we want for ourselves—as individuals, as a company, and as a community? Who do we hope to be and who do we hope to become? How can we shape a future that is vital and prosperous for the generations that will follow us? And how might we engage our communities today to help shape the tomorrow we want?
One of the handful of ways we achieved this was to commission a series of murals by shareholder artists—one in Anchorage and two in-region, in Dillingham and King Salmon. The theme for these beautiful murals was "Imagine Our Future." We asked the artists to depict their personal hopes and dreams for the future of our people, lands, waters, and the resources that have sustained us for millennia. You'll read more about the murals and the artists in the pages ahead, yet we believe the murals themselves will be a lasting celebration of our legacy, and a beacon of hope for where we can go forward, together.
Part of moving forward is facing our current challenges head on. So, while there is indeed plenty to celebrate at year's end, we're always mindful that there is work ahead of us and many things that need our continuous attention. We're aware that we can always do more. And we will always strive to focus—or refocus our efforts around the opportunities ahead of us. You have our promise that we'll roll up our sleeves and stay hard at work.
Late last month, when BBNC's leadership gathered for our annual compliance training, there were fascinating conversations about the state of things—economically and politically, around diversity, equity, and inclusion. Not everyone agreed on all points. Yet, one thing we all rallied around was the importance of being a good person. In your family, in your communities, in your workplaces, and in your interactions with strangers—be a good person. When you strive for that, the rest will sort itself out.
So, as the holidays approach, take that message to heart. Remember that there are many things to celebrate. Reflect upon the things that really matter in life. Stay safe. Look out for one another. And be a good person.
Happy holidays, however you choose to celebrate. And have a wonderful New Year.
Jason Metrokin
President & CEO